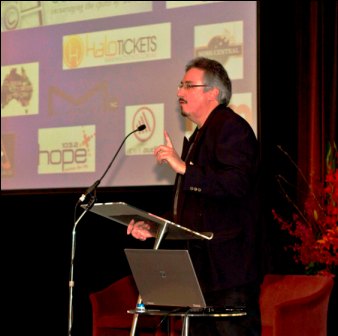 Need someone to talk to your students, facilitate an intensive hands-on learning experience or, need a speaker at your next seminar???
Whether on site or on skype - Are you wanting a speaker at a seminar or conference to inform, talk and/or facilitate sessions on
marketing in today's music industry and doing business within the new paradigm,
social networking,
imaging, branding, style - building value and the hype
making a career as a songwriter,
something related?????????
Then you might want to have a chat with me.
The above sounds a bit dry I know - but we do have a reputation for audience engagement, participation and entertaining, memorable presentations.
So what are some of the areas you might consider.

Of course, there are variations and related topic areas that can be adapted to your requirements – just ask... but in the meantime, some examples ........
Utilising experience in business, marketing, promotion,
publishing and presentation…..
General
Working your music, interest, business in the new marketing paradigm - its different, but fun if get your head around it
Using the great, ever changing technology options to be different and attract attention
Driving value => Sales..... How does one link "all roads back to the sale" ....... and when (to have the most return)
Exposure if not good....... is bad!
Dont be fooled - most people dont have imagination - if your image amd message dont fly, your business will die ......... and
a specific example ..........Is the "demo" a thing of the past? It depends but mostly, yes
Social networking - personal vs business - difference and sameness - being aware and being effective
Direct vs leveraged income - how can you make an extra 20c or more on every $1 of direct sales
Songwriters – is it possible to make a living from your craft? YES
Do you know the various avenues of revenue generation for the songwriter?
What skills, knowledge, equipment, etc are needed to pursue each channel?
What is the real potential income and lifestyle if have the basics? And
What is needed to get started/have a chance?
What can one dream about - and that some are actually achieving
How can you use technology to really be out there and doing it? - build the hype
Utilising a number of years as a producer, mixer, mentor and
adviser ……
For the recording artist or would be, the performance student ...... pre-production preparation and production tips…

What do you want to record? And…. Why do you want to record in the first place?
What are the elements that you need to consider before entering the studio (and even booking it)?
Have you determined a realistic budget and time line based on a realistic sales/giveaway analysis?
How practiced and prepared do you REALLY need to be? And in what way?
What studio is going to be right for you?
Do you need a producer? What to do if you have one?
Do you need separate recording, mixing and mastering people?
Do you need to master at all?
Once in the studio, what do you need to consider? Timelines, changes, adaptations and allowances
Who should be listening, who directing and who should have the final say?
Some insider tips
And more - just ask