Advisory, Speaking and Information Experience Background
Ian has a wealth of experience to draw on: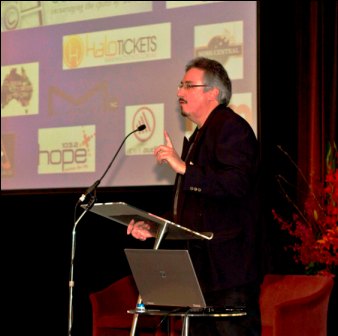 Qualifications in business, marketing, export marketing and administration as well as music and training,
43 years experience in the music industry in various capacities from performance to production, event organisation, marketing, lecturing, advice and mentoring, publishing
Many years experience in marketing, event management, promotion, fund raising and administration,
Numerous public speaking, facilitation, seminars and lecturing engagements,
Operated own marketing consultancy and export trade operation in conjunction with other businesses for a number of years
Specifically, some of the past and ongoing areas, of activity include:
6 years delivering mentoring advice and input to Master and Bachelor music students at Excelsia College Sydney
Contracted to deliver music business masterclasses for students at Abbey Road Institute Melbourne (as of August 2016)
Designed and presented Music Industry Business short and long courses (up to Degree unit level)
Designed and presented Event Management short and long courses (up to Diploma unit level)
Designed and presented numerous lectures and talks on social networking, marketing, future trends in the music industry and aspects of 'being in the business' to various music industry interest groups
Organised and speaker at a number of full/part day seminars on marketing, music business and social networking within the context of the overall day (some examples under the events tab on the website)
Dinner and conference speaker on a range of topics and areas over the years
Consultant and independent advisor to a number of institutions about ideas, pathways and future directions– and consults and mentored students and emerging music industry participants on career paths and promotion ideas
Has operated as a contract producer for clients for the last 10 years full time (see more information on the website)
Represents and helps promote a limited number of artists and acts (Ian only takes on one 'act' per genre at any one time to ensure no conflicts)
Publishing arm of the business working in the licensing/sync market area (see Sync group tab on the website)
A number of emerging artists utilise Ian's song assessment service offering (see the testimonies under that tab on the website)
Previous event management from multi-artist gigs, fundraising dinners, gigs, general interest through to large corporate events (event management history under the tab on the website)
Is widely networked within the industry and has a good reputation for problem solving, idea creation, and 'getting it done
Constantly ensuring he maintains an up to date status on trends and aspects of how business is being done in today's ever changing environment
(details and references available on request)
Specific client references available on request.
Do some of these areas sound as though they might be applicable to you - great. However, if not dont worry, each situation and client has their own requirements............ so every course, talk or idea is built and developed with the specific audience/client in mind. Ian has proven on many occasions he can not only integrate and investigate associated areas of interest if required, but can communicate his findings effectively.